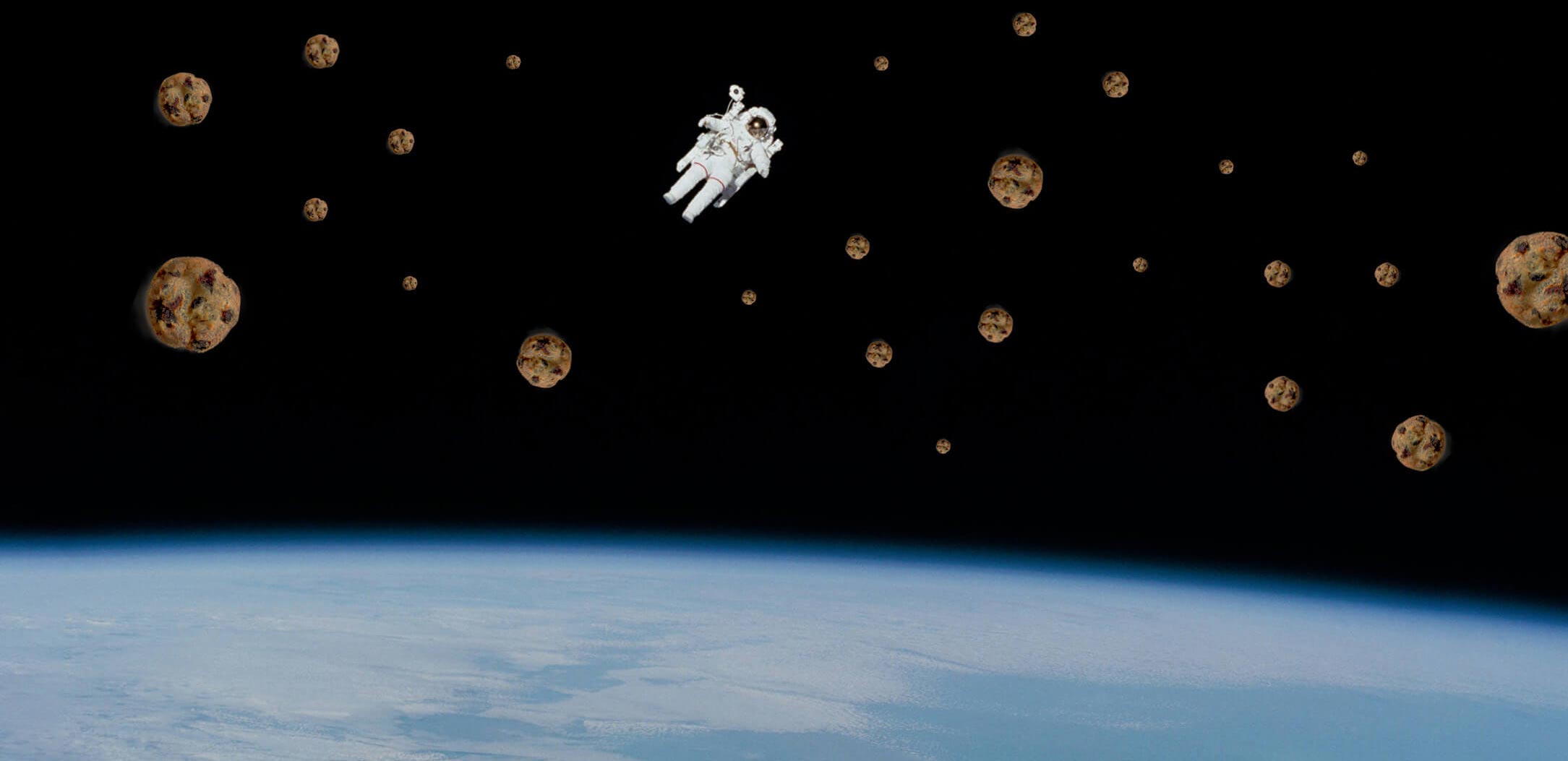 What is cookieless advertising?
Cookie rejection occurs when browsers either block a cookie or delete it after it has been placed. This hurts advertisers who rely on cookies for targeting and measurement. Without cookies, their path to conversion is obscured, which means advertisers might be spending blind and might miss sales opportunities. Cookieless advertising has to find a way to work around these hurdles, with the help of other tactics like:
Creatives (awesome, emotion-evoking visuals and messaging)
Contextual targeting
Cookieless tracking (cookie alternatives)
First-party data.
Expansion of partnerships and strategies within the digital ecosystem will also help drive better performance, evaluation, and measurement in a cookieless world.
First-party cookies vs. Third-party cookies
Let's start from the beginning and first demystify the concept of the "cookieless world", so here goes: first-party cookies (or "good" cookies) are not going anywhere. So, our world will not be entirely cookieless.
First-party cookies
, which are actually small text files with ID tags that are stored on the user's browsers, only work within one website, because their reading and writing are performed in the same domain. First-party cookies serve many good purposes, from holding your shopping cart content, remembering logins, expressed preferences, and other ways of personalizing your on-site experience. This is what cookies were originally designed to do. The specific, overreaching practice of using cookies to track users across the internet from one domain to another is known as
third-party persistent cookies
(mostly considered as "bad" cookies). These are the ones being retired and leaving us "cookieless".
Personal device identifiers
(such as Apple's IDFA), used to identify consumer activity within the app on their devices (to track app installs, etc.) will now be
very limited
. EU's General Data Protection Regulation (GDPR) and emerging laws like Brazil's Lei Geral de Proteção de Dados (LGPD) and The California Consumer Privacy Act (CCPA) are creating a new legal framework for the use of personal data and setting a new course in internet history. Following Apple, Google announced that third-party cookies on Chrome are going away in January 2022. They will be blocked on Edge and are already blocked on Safari and Firefox.
To sum up, people will not be tracked online anymore without knowing it. Any tracking technology collecting

personal data

is only legal if the website gains prior

consent from end-users.
Various groups are applauding this change. But what about digital advertising audiences?
Is the cookieless future bright for digital advertising?
Won't the end of third-party cookies mean the end for relevance and accuracy of digital advertising? Does this mean that personalization, targeting, or re-targeting are lost? And more importantly: Does it mean the end of performance measurement and attribution? The ad-tech industry has developed sophisticated cookie-based methods to
target audiences and prove ROAS
. It's fair to ask, what do these changes, in reality, mean for the future of digital advertising as a whole?
Who will be affected and how by the demise of third-party cookies?
All the players in the digital advertising ecosystem will be affected by the third-party cookie deprivation:
Any advertiser who targets audiences by demographic or past action across websites
Any publisher with a web asset
Any data partner who creates audience segments using cookies.
Cookieless future for Demand-side or Advertisers
The vast majority of media budgets, across all channels, are planned according to two main variables: how many unique consumers the campaign will 'touch' (Reach), and how many times each of them will see the ad (Frequency). Neither
reach
nor
frequency
can be measured without some ability to know the user's identity. If the identity identifier is removed, then media budgets can't be planned the old way anymore. This is why the industry is in such a state of shock, and why the first instinct is to find a replacement identifier.
Cookieless targeting
There are already some
alternative targeting proposals for the open web
, the majority still in the works though: LiveRamp solution, Unified ID (IAB and The Trade Desk), FloC – the cohorts (Google)… Initially, these alternative identifiers might be somewhat limited in scale. Having your own relationship with the users, who either log in to your service or give you their ID (data) willingly, is the best and most reliable way of doing business. For those marketers who want to continue data targeting, implementing a system that connects a brand's data with publishers'
first-party data will be the key
. The whole industry needs to work on better explaining this and stressing its importance.
Contextual targeting
Another option is
contextual targeting
. By the way, before 2010, just about all ad buys were based on cookieless targeting or contextual targeting & audience indices. Contextual targeting does not require any specific knowledge about the user's identity, but only about the page context, request context, and user context.
Page context
is the easiest to comprehend, and it is what "contextual targeting" historically meant. Based on understanding the language, sentences, or bags of words, we know what the page is about. Topics, categories, and sentiment are well understood but have been used recently mostly solely for blocking spend and brand safety.
Request context
is about the time and location of where the pageview is rendered. Is it raining in New York right now? Is there a big game in town and the local team is winning? These incidents can modify consumer behavior, and we can take advantage of them in advertising.
User context
is trickier, but there are things we can "guess" based on how the user is behaving on the page. Is the user moving the mouse pointer quickly or slowly? Is the user clicking a lot or not? Does this indicate a particular mood? Would a brand want to target only "happy" users? So, marketers will always be able to use existing contexts and all sorts of data that are not private, such as mood, weather, time of day, sports events, and others. In all these cases, the conversation is about brand identity and brand alignment, rather than user identity and targeting. It's a turnkey solution, so there's no need to build out first-party data strategies or rely on walled gardens. This also means that campaign goals are going to have to evolve. It's not enough to rely on frequency and viewability, even if you can do so. After all, what's the point in relying just on viewable CPMs if you don't know who you're engaging with?
To sum up, programmatic advertising trends in 2021 and 2022 are changing. Advertisers need to find alternatives to reach their target audience and attribute conversions/actions.
Cookieless world for Supply-side or Publishers
Bottom line: digital advertising pays for the internet. Consumers either buy subscriptions to access publisher content, or they consume content for free, but it is paid for by ads. More often than not, consumers prefer to see ads rather than pay for a subscription. If consumers don't pay publisher subscription fees and media budgets decay because marketers can't prove their ROAS, then publisher CPMs (CPTs) drop significantly, which increases ad loads. Consumers see a greater number of ads that are less relevant to the web page. They consider these ads as "litter", all resulting in a poorer user experience. When ads are more relevant, they are more valuable and therefore there can be less of them. Experts talk about
a 60% decrease in CPMs
when identity is not present (Safari and Firefox).
Long story short, publishers need to find ways to allow advertisers to identify high-value users on their sites, to keep advertising revenue high. They are searching for these solutions and they are building new editorial business strategies to fight against the walled gardens.
First-party data concept
The
first-party data concept
applies to all participants in the ecosystem – publishers, especially. Publishers who know the gender and age of their subscribers might choose to share the two attributes rather than a hashed email, to enable targeting while preserving privacy. The IAB is working on
standards for sharing first-party data
this way, and first drafts are being published. We predict this will play a much bigger role in the future ecosystem than currently recognized. Do you remember the first two years of your Facebook wall? It was filled with hundreds of quizzes designed to capture your data. We might experience something similar, an explosion of new interactive ad formats that will be eager to get to know you. Publishers, especially smaller ones, will collaborate with other publishers to form new alliances and find the best solution. In any case, every publisher needs to articulate their first-party data strategy, which should cover: what they collect from users, how they collect and store it, and who they share it with.
Cookieless future for Consumer-side or End Users
Some impacts on the consumer side have been already mentioned. The fact that everyone will try to build their independent first-party databases means users will need to complete a lot of logins and consent forms. Users will get
login fatigue
, so there are already talks of which
SSO (single-sign-on)
to recommend. There are regional providers, some publisher alliances, Prebid will operate SSO… We will just have to wait and see how it all rolls out.
What is next in the digital advertising industry?
We should be excited about the opportunity cookieless future is bringing to the digital advertising industry, and embrace the shifts set forth by the governments and the private sector. Necessity is the mother of invention and innovation. The need to create better consumer experiences, better marketer outcomes, and better publisher monetization is essential, and together, as an industry, we will find ways of achieving those goals.